INTERLOC
Wall & Soffit Panel System
---
The Interloc Wall & Soffit Panel System is a smooth wall panel that can be installed both horizontally and vertically, and is commonly used as a soffit panel with perforations. This hidden fastener standing seam panel comes in a variety of coverages with options for flush wall or 0.5" reveal.
Depending on the coverage chosen, the Interloc Panel comes with v grooves, with perforations, or a combination of these options. Available in our Standard 24 gauge colour series, this panel can also be produced in our Image Series, Textured Series, and PVDF Kynar Colours.
---

Interloc12 also available in 2 V Grooves or with Perforations
---

---
Interloc8
Flush Panel with No Reveal

Interloc8 also available with Perforations
---

---
Interloc75 Reveal
with 0.5" Reveal

Interloc75 also available with Perforations

---
Available in Standard 24 Gauge Colours
---
---
Specialty Steel Available in 24 Gauge
---
---
---
Textured Series in 24 Gauge
---
Trims: Compatible with our 1" Trim Collection
Available in Standard 24 Gauge Colours
Available in Specialty Steel
Available with V Grooves and Perforations
V Grooves are recommended over flat pan to reduce the effects of oil-canning
Substrate:
Walls: 5/8" Standard Plywood Minimum
Roof: 1/2" Standard Plywood Minimum
---
---
---
---
---
---
---
INTERLOC INSTALLATION GUIDE
---
---
Light gauge steel cladding with wide flat pans may exhibit oil canning which can affect the aesthetics of the building design.

Oil canning will vary depending on the time of day and angle of viewing and is usually more noticeable in darker colours.

Oil canning will also be more prevalent in wider pans and longer sheet runs. Building designers and homeowners should be aware of this and take this into consideration.
---
Find Forma Steel Products
Near You.
---
Forma Steel distributes through a network of Retail Partners throughout Western Canada. We can work with you to acquire the right materials and designs for any creative vision from conception to final physical form. Ask for Forma Steel at your local building supply store or lumber yard.
---
FIND A RETAIL PARTNER NEAR YOU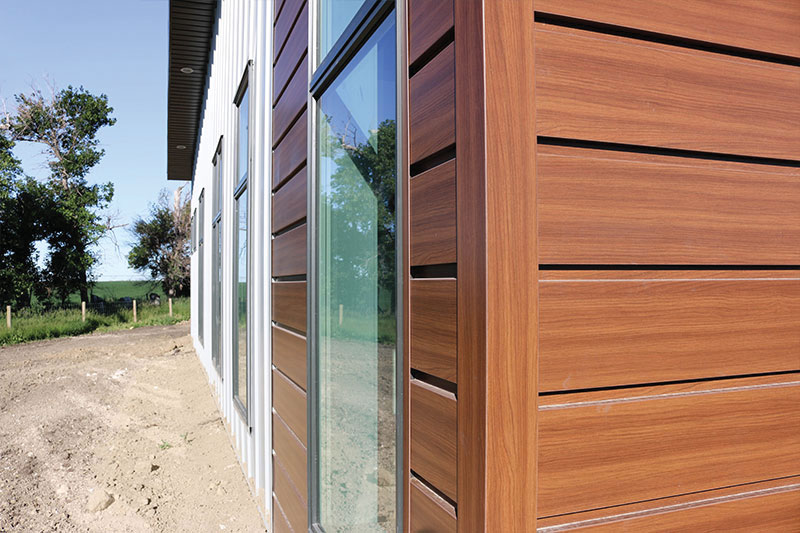 ---
A Modern Steel Plank System With the Warmth of Woodgrain
---
Forma Plank is the perfect match for our Woodgrain Series to achieve a wood-like plank system that will stand the test of time.
---
LEARN MORE ABOUT FORMA PLANK